Welcome to Demetra Hotel
A new 4 star Hotel in central Rome
A
new 4 star hotel is just born in the heart of Rome, the Demetra Hotel
, that will captivate even the most demanding guest!
The hotel design is
new and modern and offers spacious, functional and comfortable rooms
for ultimate comfort , furnishings with delicate and natural shades, a new lighting for an embracing and romantic ambience.
Our great attention to details it's a guarantee for excellent hospitality for our guest.
The
Demetra Hotel, with its 27 rooms and one suite
, is located inside an historic building and
has a strategic and central position
near to the main attractions in Rome

Book directly on our website and get FREE Wifi internet connection !
All rooms
are equipped with private bathroom, whirlpool shower or whirlpool bath, air conditioning, satellite TV, telephone, safe box, phon, minibar,
internet wi-fi
Breakfast buffet is price included.
Furthermore, Demetra Hotel is located a
few steps from the central Piazza della Repubblica
and is the perfect place to enjoy the city making it ideal for vacationers and business travelers looking for a welcoming atmosphere.
Guests staying at Demetra Hotel enjoy their vacation in Rome with excellent service and rooms.
Demetra Hotel Rome booking it's easy and it's possible to make a reservation with instant confirmation and if you need, you can
contact our friendly staff
for any further request or information.
Take a look at our photo gallery
to see what our 4 star hotel in Rome has to offer and consult online our rooms avalability and the
best rates that Demetra Hotel can offer to you !
TRIPADVISOR – CERTIFICATE OF EXCELLENCE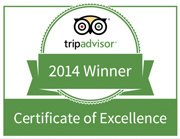 Demetra Hotel is proud to share the award received from Trip Advisor with a Certificate of Excellence for 2014.
This is a strong testimonial of our continuous strive to achieve guest satisfaction. We are extremely proud of this achievement and are delighted that we have been recognised by Trip Advisor.
We would like to thank our guests for their ongoing patronage as their loyalty and feedback is our utmost priority in raising the benchmark and providing authentic hospitality.